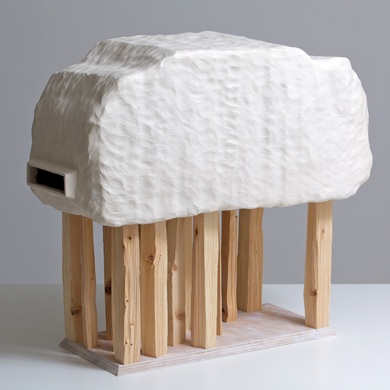 Born 1980, Osaka, Japan, lives and works in London.
Nao Matsunaga graduated from Brighton University in 2002 with a BA (Hons) in wood, metal, ceramics and plastics.  He then went on to studio for an MA in ceramics and glass at the Royal College of Art.
Inspired by Neolithic and modern architecture and its inhabitants, Matsunaga's practice combines a considered balance of raw organic forms with more controlled marks and lines, using the juxtaposition of both abstract and more recognisable sculpted forms to explore how individuals interact with their surrounding objects and spaces. His work ranges from installation based work to sculptures made in clay and wood.
Selected Exhibitions
2012
Diawa Foundation, London
Jerwood Makers Open, Jerwood Space, London
2011
British Ceramics Biennial Awards Show, Stoke on Tent
Modern Languages, National Craft Gallery Ireland
Introducing Nao Matsunaga, Dawn Youll, Kerry Jameson, Marsden Woo Gallery, London
2010
Studio, Ruthin Craft Centre, Ruthin
Collect, Saatchi Gallery, London
2009
Diversions, Glyn Vivean Gallery, Swansea
2008
This place is made of Rocks, Konstfact, Stockholm, Sweden