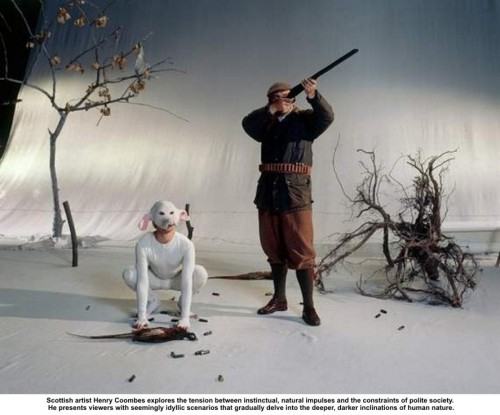 Born London, 1977. Lives and works in Glasgow.
Following his Foundation course at Central St. Martin's College of Art, London, Henry Coombes studied for one year at the London International Film School and went on to complete his BA (Hons) in Fine Art at Glasgow School of Art in 2002.
Coombes' work explores ideas of culture and nature, tradition and change, and, within this, hierarchical roles: this can be seen in his exploration of the relationships between the hunter and her dog (in the 2006 film 'Laddy and the Lady'), and the patron and the artist (in the 2009 film 'The Bedfords'). In his most recent solo exhibition, 'Magic Towards Your Face', the artist focused upon the pre-show anxieties an artist can experience. The films and paintings presented provided an irreverent fictional exhibition account within the real show within the gallery. His current work continues to explore the act of creation and the rituals of exhibition making.
Selected Exhibitions
2010
'Magic Towards Your Face', Macintosh Gallery, Glasgow School of Art (solo)
2009
Kunsthal KAdE, Amersfoort, Netherlands (solo)
'The Bedfords', Sorcha Dallas (solo)
'Running Time: Artist Film in Scotland, 1960 to Now, Dean Gallery, Scottish National Gallery of Modern Art (group)
2008
Hammer Museum, Los Angeles (solo)
Susie Q Project Space (solo)
2007
The 52nd Venice Biennale, Palazzo Zenobio
Selected Awards and Residencies
2010
CCA, Glasgow, 'Walls of Light, film commission
Shortlisted for best short at the London Short Film Festival for 'The Bedfords'
2009
Nominated for a Scottish Bafte for short film 'The Bedfords'
2007
Creative Scotland Award
2000
Residency, Art Institute of Chicago