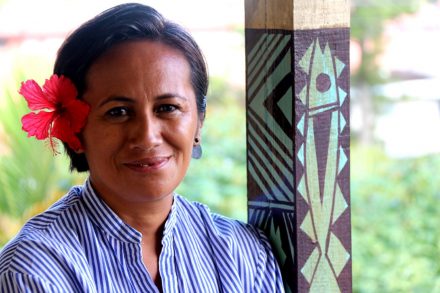 Maureen Penjueli has over 20 years of experience in the Non-profit sector working mainly in the field of environmental, economic, political and social justice in the Pacific region and is currently the Coordinator for PANG a regional NGO based out of Suva, Fiji.
As a network PANG support, organize and mobilize grassroots groups, indigenous leaders and communities, community groups, civil society actors, social movements at the national level supporting their rights to be self determining (politically and economically). Maureen works closely with networks of academics, lawyers, economists, and the media to elevate and amplify an oceanic world view.
Linking through research and analysis to lobby and advocate policy making at the national, regional and global level.  When the systems fail as they are now to protect the rights of people and nature we mobilize and take to the streets to protest against the different systems of power.
The main priority area of interest as an organization today the Pacific Ocean is the single largest geographical feature covering over a third of the world's land surface. We are large ocean states. It is home to a quarter of the world's languages, some of the last remaining intact rainforests in the world, last healthy fish stocks and biodiversity. Largely an indigenous region, like ancestors who travelled and settled these islands we remain the last guardians of this ocean.
Today the Pacific ocean is a site of renewed geo-strategic interest for economic interests in natural resources and political and security including military interests while on the climate front our people are experiencing existential threats to their very existence under rising seas.  Pacific islands long seen as far from centers of political and economic powers, the rapid depletion of land-based natural resources and the movement to secure through binding agreements and sustain industrialization through ocean under the narrative of Blue Economy has placed the Pacific ocean at the center of a resource grab without the free prior and informed consent by the people of the region.
Overlapping economic and trade agreements (WTO, PACER-Plus, Economic Partnership Agreements, Post Cotonou- Agreement; bilateral agreements) with security arrangements (Indo-Pacific; Reset; Step Up; Pacific Pivot) all present a complex but interlinked interest in the Pacific ocean.
Image: Maureen Penjueli (photographer unknown)