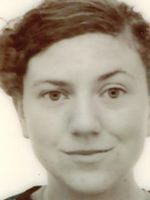 Zillah Bowes is a writer and filmmaker based in the UK. She started writing poetry in moments snatched whilefilming fiction and documentary films around the world. Her poems have been published in magazines and anthologies. She received a New Writer's Award from Literature Wales in 2014/15 and is currently working on her first poetry collection.
Zillah's film debut as a director, SMALL PROTESTS, was nominated for a Grierson Award and won, among others, the Current Short Cuts Award. As a cinematographer, her films include ENEMIES OF HAPPINESS, which won the Grand Jury Prize at Sundance Film Festival and SHE A CHINESE, which won the Golden Leopard at Locarno Film Festival. As a filmmaker, Zillah has collaborated with many visual artists including Martin Creed and TacitaDean.
Zillah first studied languages at Oxford University where she also lived above a darkroom and fell in love with images. She went on to study at the UK's National Film and Television School, and latterly, on the Creative Writing MA at Royal Holloway, University of London. Along with her poetry, Zillah is writing and developing her next film projects as a director.
www.zillahbowes.com