Beca Lipscombe
Crafts, Design, Print, Textiles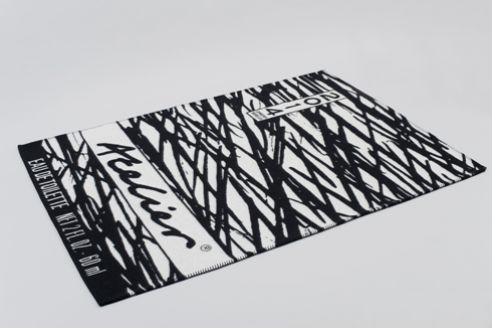 Born 1973, Edinburgh, lives and works in Edinburgh.
Beca Lipscombe is a printmaker and textile designer. Since studying at Central St Martins, Lipscombe has worked in London and Paris freelancing for companies such as Liberty, Chloe, Stella McCartney and Anne Sophie Back. Up until 2011 she taught on the Master of Fashion and Textiles at GSA stepping down from this post to concentrate on her own work and the work of her company Atelier EB which she runs in partnership with artist Lucy McKenzie.
Lipscombe's varied practice has included the production of commissioned display and interiors for public and private spaces, textiles, furniture, publishing and more recently a collection of women's wear produced in collaboration with Atelier EB and Panel presented as The Inventors of Tradition.
Her work is centred around an interest in craft traditions in Scotland and a desire to utilise the quality and talent within craft industries.  A new women's wear collection will be launched by Atelier EB in 2013.
Selected exhibitions
2013
Ost End Girls, collection
Evil Under the Sun, showroom / exhibition, Fiorucci Art Trust, Stromboli (cat)
2012
Group exhibition curated by Markus Proschek, Zagreb
Work in Progress, Paris, solo exhibition, Au 8 Rue Saint-Bon, Paris
Scotland Can Make It!, in collaboration with Marc Camille Chaimowicz, exhibition curated by Panel, People's Palace, Glasgow (cat)
Studio 58: Women Artists in Glasgow since World War II, group exhibition, Mackintosh Museum, Glasgow (cat)
Te Kust en Te Keur, group exhibition, Mu-ZEE, Oostende
2011
The Inventors of Tradition exhibition with Panel, Glasgow (cat)
Mackintosh Museum, Glasgow, TWAAS, New York, Cabinet, London, Etablissement d'en Face Brussels, Mehringdamm 72, Berlin (cat)
Town-Gown Conflict, group exhibition, Kunsthalle Zürich, Zürich (cat)
Cologne Kunstverein Annual Editions Exhibition, Cologne (cat)
2009
Limited edition screenprint for Schweizerische Graphische Gesellschaft, Zürich
2008
Atelier solo exhibition, The Lighthouse, Glasgow
…In the Cherished Company of Others…, group exhibition curated by Marc Camille
Chaimowicz, Mu-Zee, Oostende
Projects 88, Lucy McKenzie & Atelier E.B. solo exhibition, MoMA, New York
2007
Atelier, showroom / interior design, Galerie Daniel Buchholz, Cologne
The Flying Duck, interior design, Flying Duck Club, Glasgow